Rainsville City Hall
City hall is located in the heart of the city at 70 McCurdy Avenue South (map). The offices of the mayor, city clerk, municipal court magistrate and revenue officer are located there. Sewer and sanitation bills can be paid inside or at the drive-through window. The mailing address is PO Box 309; Rainsville, AL 35986. Phone 256.638.6331. Follow city hall on Facebook HERE.
MUNICIPAL COURT (256.638.6334):
Regular court is held on the second and fourth Tuesday of each month at 4:00 p.m. All court sessions are held in the court/council chambers at the annex building (98 McCurdy Ave S) next door to city hall.
PAYMENT REVIEW COURT:  (256.638.6334):
Those who owe fines or costs on traffic or misdemeanor cases (Rainsville ONLY): The municipal court is now holding payment review court on the first Tuesday of every month at 4:00 p.m. If you owe fines or costs on any Rainsville traffic or misdemeanor case, you need to be at the next payment review court to make arrangements or take care of what is owed. If you have questions about court, call 256-638-6334. Location: Rainsville Revenue Annex Building. (Next Door to the City Hall)
DEFENSIVE DRIVING CLASS:  It is held every 3rd Tuesday Night from 4:00 PM – 8:00 PM.  You must arrive at 3:30 PM to complete paperwork and registration. You must have a driver's license and $35.00. Method's of payment: cash or credit/debit card. All payments must be made on the night of class. Location: Rainsville Revenue Annex Building. (Next Door to the City Hall) Contact Tammy Mason at 256-638-6334.
ONLINE PAYMENTS:  traffic tickets  |   sewer and sanitation utility bill   
ONLINE BILL PAY SCAM ALERT 01-22-2021
Do not use doxo.com to pay any bills for the City of Rainsville.  They are not affiliated with us and your bill will not be paid!!!  If you google rainsvillepay.com make sure you use https://www.ncourt.com/x-press/x-onlinepayments.aspx?juris=A1C86DC8-B293-4944-9c37-1EE2CDA3BD76 this link!
JOBS: See city job postings
CITY COUNCIL MEETINGS
With some exceptions, Rainsville city council meetings are held on the first and third Monday of each month with the workshop at 4:00 p.m. and the meeting at 4:30 p.m.  Meetings are held in the council chambers at the municipal annex adjacent to city hall. Call city hall at 256.638.6331 to inquire about the workshops, meetings and agendas.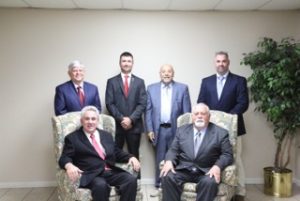 2020-2024  MAYOR AND CITY COUNCIL:
Rodger Lingerfelt, Mayor
Arlan "Monk" Blevins, Place 1
Bejan Taheri, Place 2
Ricky Byrum, Place 3 / Mayor Pro Tem
Brandon Freeman, Place 4
Derek Rosson, Place 5
PHOTO: seated from L to R — Ricky Byrum and Rodger Lingerfelt. Standing from L to R — Arlan "Monk" Blevins, Derek Rosson, Bejan Taheri and Brandon Freeman.
Rainsville Sign Ordinance 3-15-2021.doc
Rainsville Alcohol Regulations Ordinance
Ordinance no. 05-15-2017 (dangerous animals) 


New regulations for owners of dangerous animals
Ordinance no. 05-15-2017 (zoning) 


Deals with a parcel of land being rezoning
Rainsville Police Department
Michael Edmondson
POLICE CHIEF
Matt Crum
ASSISTANT CHIEF
Street address:
42 McCurdy Ave South
Rainsville, AL 35986
Mailing address:
City of Rainsville
Attn: Rainsville Police Dept.;
PO Box 309; Rainsville, AL 35986
NEW!
rainsvillepd.com
Contact
Office/dispatch: 256-638-2157
Fax: 256-638-7969
Emergencies: 911
Rainsville Fire Department
Willimac Wright
FIRE CHIEF
Street address:
71 Circle Drive (map)
Rainsville, AL 35986
Mailing address:
City of Rainsville
Attn: Rainsville Fire Dept.;
PO Box 309; Rainsville, AL 35986
The Rainsville Fire Station No. 1 is a designated National Safe Place location. A yellow diamond-shaped Safe Place sign is displayed on the building.
Contact
Non-emergencies: 256-638-8055
Emergencies: 911 or 256-638-2158
Fax: 256-638-8057
Related Files & Links
Volunteer fire fighter and sleeper program 

Knox-Box Program. A service designed to protect and preserve life and property. GO.
Emergency preparedness   |   Storm shelter registration program
Sign up for weather alerts:
ALERT DEKALB  |  SAFE-T-NET
Rainsville Public Library
The library is located at 941 Main Street (Alabama Hwy 35) East (map).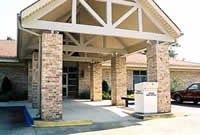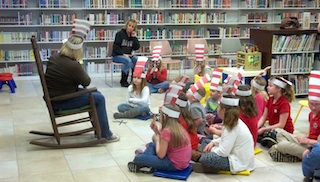 Mailing address: PO Box 509, Rainsville, AL 35986.
Phone: 256.638.3311.
Other than a vast collection of books and reference resources, the library features an audio-visual collection, internet, virtual library, online catalog, meeting room, and copy/fax service.
LINKS: rainsvillepubliclibrary.com  |  Library on Facebook 
Rainsville Public Works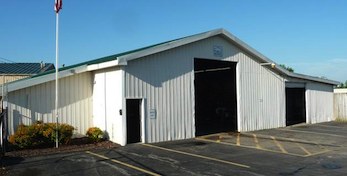 The public works department maintains city facilities, city vehicles and equipment, and streets and other infrastructure. It also operates the city's daily garbage pick-up service which currently serves approximately 2,300 customers. Residential and commercial trash pick-up services are available. A roll-off dumpster truck serves large commercial refuge-disposal needs.The "garage" located behind city hall — adjacent to the city park — is their home base.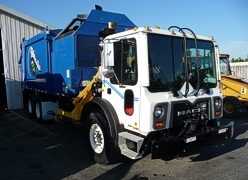 Rick Dobbins is the Public Works Director. For department inquiries, or to order dumpster or sanitation service, contact the department through City Hall at 256.638.6331.
Parks & Recreation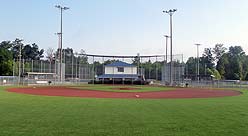 The Rainsville Sports Complex, also known locally as the "Field of Dreams," is located on the north side of the city. Home to youth baseball, softball and t-ball leagues, the complex is also home to high school softball as well as numerous all-star tournaments.
The city park features a pool, a tennis court, a walking track and an outstanding variety of playground equipment. The pool is open 7 days a week –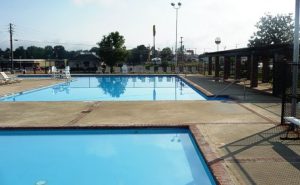 generally between Memorial Day and Labor Day; 1:00 – 5:00 p.m. It is available for private parties — 10 a.m. to 12:00 noon, 6:00 to 8:00 p.m. and 8:00 and 10:00 p.m.
DIRECTIONS: Parks and recreation locations are shown on the Rainsville points of interest map.
Sammy Smith is parks and recreation director (256-717-3401). Follow the sports complex on Facebook 
.
Wastewater Treatment Plant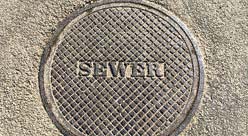 The City of Rainsville's wastewater operation is located on the south side of the city. Bills may be paid by mail, at city hall or online HERE.
Phone 256.638.8044.
The plant is capable of handling large volumes, and serves the wastewater needs of several manufacturing facilities, residential neighborhoods, surrounding towns and more.
For details about rates, permits, inspections, etc., see Ordinance 08-15-05.
Tom Bevill Enrichment Center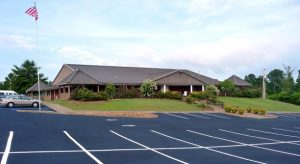 Phone 256.638.4343.
Office hours: 8:00 am  – 12:00 pm, Mon-Fri
STREET ADDRESS: 115 Main Street (Alabama Hwy 35) West, Rainsville.
MAILING ADDRESS: City of Rainsville, Attn: TBEC, PO Box 309, Rainsville, AL 35986
 TBEC on Facebook
Opened in December 1993, the TBEC is one of the most utilized facilities in the area, averaging over 350 events per year including. It is home to the Rainsville Senior Center on weekday mornings, and is an active event venue on evenings and weekends. Reunions, banquets, receptions and concerts are held there regularly.
The building's auditorium features a cathedral ceiling and a hardwood floor. With a comfortable seating capacity of up to about 280, the auditorium also features a stage, a PA system, and a kitchen equipped with stove, oven, refrigerator, dishwasher and microwave. Over 250 chairs and a variety of tables are available for use at no extra charge.
An additional meeting room, the Joe Bowman Room, is available for events and meetings where a smaller crowd is expected. It can seat around 40 persons, and has its own entrance.
DOWNLOADS: sample rental agreement 

  |  Rental rate details 

City government job postings
No jobs posted at this time.
The City of Rainsville is an Equal Employment Opportunities Employer
Municipal and County Annex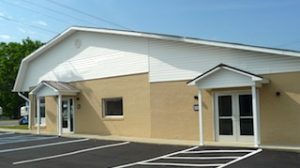 The annex is a satellite location for both the DeKalb County Revenue Commissioner office (www.revenue-dekalbco-al.us) and the Probate Judge office (judgeronnieosborn.com).
Phone 256.638.9405 for probate
Phone 256.638-9404 for revenue
On May 18, 2016, the annex moved to the renovated building between City Hall and Body Vision Fitness Center.
Area residents may purchase their Alabama auto license plates and pay their property taxes at the annex in Rainsville. DeKalb Countians may also buy DRIVER'S LICENSES, hunting licenses, business licenses and boat licenses at the convenient branch office.
MAP  |  Directions:
From the red light, take Ala Hwy 75 South toward Fyffe, turn right just south of City Hall.
From Fyffe – Ala Hwy 75 North, turn left before red light between Body Vision and City Hall.